HAPPY THANKSGIVING | MORELAND AVE CONSTRUCTION | GA GIVES DAY | HOLIDAZE
WE ARE THANKFUL FOR YOUR SUPPORT DURING OUR FIRST YEAR! 
Have a safe and abundant Thanksgiving holiday!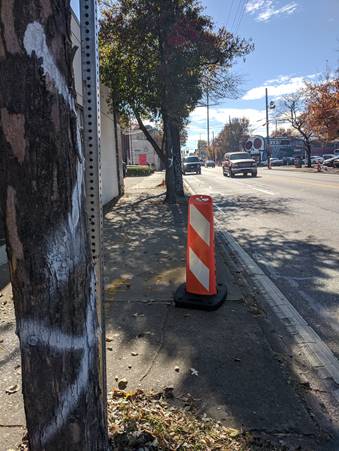 MORELAND AVE CONSTRUCTION STARTING WEEK AFTER THANKSGIVING
The  apparent low bidder on the contract for GDOT's work on Moreland Avenue is Ashok Virani of Ohmshiv Construction. 
If anyone has questions about the project or how it's being handled, please contact Lauren Welsh of the L5P CID at 

[email protected]

. 
We've found it's best to have one point of contact, so we want to be sure we'll addressing all the needs of business and property owners.
The orange Gemstone panels along Moreland are there as traffic devices and will be there for the entirety of the project.
First Stage: Demolition will start after Thanksgiving.
Work will be done on one side of Moreland at a time to ensure there is always one open sidewalk for pedestrians.
Trees marked with a white X will be removed. Many of them are dying or diseased and also hinder GDOT's ability to be ADA compliant. We are working on a tree replacement plan and should have an update soon.
The bid documents were submitted to the City of Atlanta's procurement office on Tuesday, November 19. 
The project should be advertised by the end of December with a deadline for bids in mid January 2020.
The city expects to award the contract in early February 2020.
The project is expected to take 8 months to complete, so once again, we are looking at a potential ribbon cutting right before the annual Little 5 Points Halloween Parade & Festival. 
TUESDAY DECEMBER 3RD IS GEORGIA GIVES DAY! 
We're a 501 c(3) Nonprofit!
Each year, the Georgia Center for Nonprofits hosts our state's nonprofit giving event. 
As of this year, you can select the L5P Alliance on Georgia Gives Day 12/3/19!
An in-store TEXT TO GIVE  FUNDRAISING WITH HOLIDAY CHEER! 
Visit one of the participating L5P merchants (list still growing) for your holiday shopping. 
Upon check out, you will text HOLIDAZE2019 to 44-321 to see:
https://secure.givelively.org/donate/little-five-points-alliance-inc
Click on the link to make a tax deductible donation of $10 or more to the L5P Alliance.
Show your cashier the confirmation of the $10+ donation to the L5P Alliance. 
That L5P merchant will GIVE YOU 10% OFF YOUR IN-STORE PURCHASE. 
WHY?
L5P is an awesome independent shopping district with unique gifts for all! Shop Local! 
Raise money for the L5PA so we can continue to produce monthly events in L5P that support small independent businesses. 
Holiday giving and discounts wrapped into one!  
-- 
Jennifer Ohme
Community Development Consultant
L5PAlliance @ Twitter | Instagram | Facebook
Share this post: